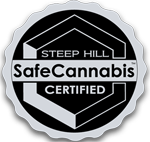 Oakland's Magnolia Wellness and Sacramento's River City Phoenix Introduce Medical Grade Cannabis Program to California
Magnolia Wellness and River City Phoenix (RCP) have partnered with Steep Hill Halent Labs to create a first of its kind patient and product safety program.  The Certified Medical Grade Cannabis Program, a self regulating safety process that raises the bar for quality assurance, aims to provide California medical marijuana patients with the most thoroughly screened cannabis available today.  
RCP and Magnolia's Mark Pelter first approached Steep Hill Halent Labs 6 months ago with a simple question:  How can we ensure that our patients are receiving cannabis that is not only safe, but additionally run tests that will allow them to make informative decisions?  Mr. Pelter and Adam Mintz, President of Steep Hill Halent, immediately began brainstorming on the necessary tests and protocols that would need to be in place for such a momentous task to be successful.  Assisted by Steep Hill Halent's Dr. Donald Land PhD, Rev. Dr. Kymron DeCaesare, and Savino Sguera, Magnolia Wellness and RCP began to take advantage of every test offered by the laboratory, and turning away any product that did not meet the Certified Medical Grade Cannabis standard.
At both collectives, patients can be certain that all of the medical cannabis, concentrates, and edibles are free of all molds, mycotoxins, growth regulators, fungicides, and residual solvents.  Additionally, the collectives are testing their cannabis products for detailed cannabinoid and terpenoid profiles, information that is essential in helping patients make informed decisions on their medication.  Magnolia Wellness and RCP plan to use interactive online surveys to gather information from patients as to what type of ailment was relieved using cannabis with certain cannabinoid and terpenoid profiles.  Once their data set becomes large enough, both collectives will be able to better educate patients on what cannabis may help alleviate certain conditions.
Upon asking Adam Mintz of Steep Hill Halent what he thought of the new program, he responded with excitement: "I am amazed at the steps these collectives have taken to ensure their patients receive the safest cannabis in the marketplace.  To my knowledge, this is the first program of its kind in the state, and quite possibly the entire country."  Magnolia Wellness and RCP feel that they can do more, and are already making future plans to test for heavy metals in plants and soil, and even doing tests at the actual cultivation sites.
Safe Cannabis Medical Testing Program
Flowers are laboratory tested with Steep Hill Halent for the following:
Potency
Mold
Certain harsh chemicals such as pesticides, fungicides, and/or growth regulators
Flowers are also given a visual insepection for insects, powdery mildew, and other visual molds including bud rot.
Cold water extracts are tested for potency and mold.
Butane hash oil (BHO) products are tested for potency and trace residue. Our trace residue testing is consistent with the highest standard utilized in the state of Washington. Our trace residue standard is set at 500 parts per million. This standard assures that patients will receive less butane from our concentrates than a person receives from lighting a bic lighter. A bic lighter gives a person 800 parts per million....